Canning Zucchini Relish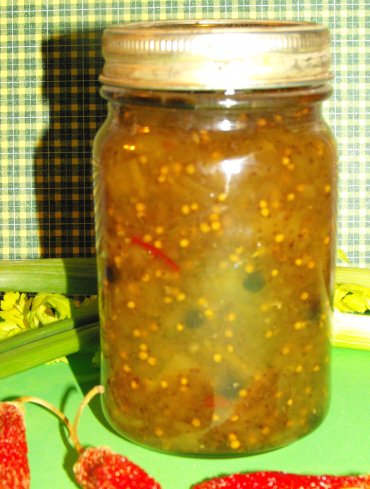 Canning Zucchini Relish
In this recipe we are going to use up some extra zucchini's from our garden. We also thought that we would give it a spicy flavor by adding some horseradish and red peppers. You can certainly experiment with your own ingredients and preferences.
This recipe makes about 5 pint jars.
---
Ingredients
12 cups - finely chopped zucchini
4 cups - chopped onions
2 - red bell peppers - seeds removed and chopped
1 - green bell pepper - seeds removed and chopped
1/3 cup - pickling or canning salt
2 1/2 cups - granulated sugar
2 1/2 cups - white vinegar
1 tbsp - ground nutmeg
1 tbsp - ground turmeric
4 tbsp - prepared horseradish
1 - chili pepper; including seeds, chopped
---
Directions
1. In a large bowl (glass or stainless steel) combine zucchini, onions, red and green peppers and pickling salt.
2. Cover and let stand in a cool place (70-75 F) for 12 hours.
3. Transfer to a colander placed over the sink and drain.
4. Rinse with cool water and drain. Squeeze out excess liquid with your hands.
5. In a large stainless steel sauce pan, combine the zucchini mixture, sugar, vinegar, nutmeg, turmeric, horseradish and chili pepper.
6. Bring to a boil over medium heat - stirring frequently.
7. Boil until the mixture is the consistency of a commercial relish. This is usually about 45 minutes.
8. Prepare canner, jars and lids.
9. Ladle hot relish into hot jars. Make sure you leave about 1/2 inch of headspace from the top of the jar.
10. Remove air bubbles and adjust headspace as needed.
11. Wipe rim of jar.
12. Put lids on jars and screw bands down until finger tight.
13. Place jars in canner and make sure they are completely covered with water.
14. Bring to a boil and process for 15 minutes.
15. Remove Canner Lid and wait 5 minutes.
16. Remove jars and let cool before you store them.
---
Home Canning Equipment You Will Need - Canning Zucchini Relish
---
Preserving the Good Things in Life!

---
Go Back to Home Canning Relish Main Page

Go Back to Home Page