Home Canning Peaches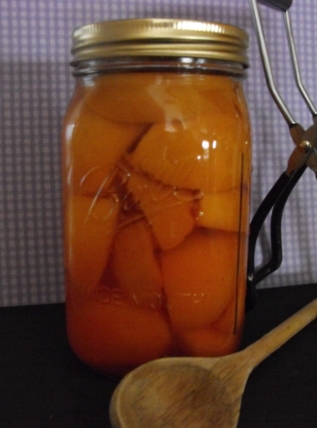 Home Canning Peaches is one of our family favorites and I have such fond memories of this as a child. The fresh smell of the fruit and the excitement in the kitchen as everyone helped out. Once in a while my Mother would give me a fresh slice off a peach just before she put it in the jar. It was a real treat and I will never forget those days.
There was one part of this process that I was too young to understand at the time, but it sure is handy to know now. You might have noticed that fruit will turn brown in a short period of time after removing the peel. This reaction is called oxidation and can be prevented by treating the fruit with citric acid and/or ascorbic acid (vitamin C). You will want to follow the manufactures instructions when using these. You can also use a mixture of Lemon Juice and water to accomplish the same thing. All of these are perfectly healthy to use (otherwise we would not use them).

---
Popular Recipes
---
Canning Equipment - Canning Peaches


---
---
---
Preserving the Good Things in Life!

---