Home Canned Tomatoes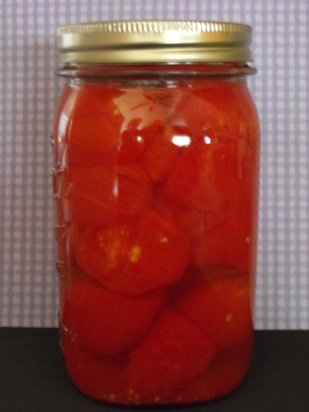 Home Canned Tomatoes...
Tomatoes that do not have added vegetables can be safely home canned in a boiling water canner. Whole, halved or quartered tomatoes can be hot or raw packed in water, in tomato juice or with no added liquid. You will need about 3 lbs of tomatoes for each quart sized jar.
Directions
1. Prepare canner, jars and lids.
2. Working in small batches, immerse tomatoes in boiling water for 30 to 60 seconds or until the skins start to loosen or crack. Immediately plunge into a bowl of cold water and slip the skins off. Remove cores and any bruised or discolored portions that become apparent after blanching. Leave whole, halve or quarters.
3. Prepare tomatoes for packing:
RAW-PACK METHOD Bring about 4 cups of water to a boil and keep hot (you will use it to fill the jars). Do not heat tomatoes.
HOT-PACK METHOD Place tomatoes in a large stainless steel saucepan. (For best results when canning whole tomatoes, do not layer them in the pan. Quartered and halved tomatoes can be layered.) Add water to cover. Bring to a boil over medium-high heat, stirring gently. Reduce heat and boil gently for 5 minutes.
4. Before packing each jar of tomatoes add lemon juice or citric acid to the hot jar in the quantity specified below. The quantities are assuming that you are using quart sized jars.
Bottled Lemon Juice ............ 2 tbsp
Citric Acid .................... 1/2 tsp
Salt ........................... 1 tsp
5. Pack tomatoes into prepared jars to within 1/2 inch of top of jar. Ladle hot cooking liquid (or boiling water if using the raw-pack method) into jar to cover romatoes, leaving 1/2 inch headspace. Remove air bubbles and adjust headspace, if necessary, by adding hot liquid. Wipe rim. Center lid on jar. Screw band down until resistance is met, then increase to fingertip-tight.
6. Place jars in canner, ensuring they are completely covered with water. Bring to a boil and process quart jars for 45 minutes. Remove canner lid. Wait 5 minutes, then remove jars, cool and store.
Variations
Home Canned Tomatoes packed in Tomatoe Juice: Packing tomatoes in tomato juice concentrates enhances the flavor of the end product. However, the processing times must be increased. Use either the hot-or-raw pack method and follow the steps above, substituting commercially prepared or homemade heated tomatoe juice for the water. Increase processing time to 85 minutes for the quart sized jar(s).
Home Canned Tomatoes... Fresh Tomatoes When you Need Them!


Home Canning Equipment - Home Canned Tomatoes


---
Preserving the Good Things in Life!

---
---
Go Back to Home Canned Tomatoes Main Page
Go Back to Home Page