Home Canning Pickles
Bread and Butter Pickles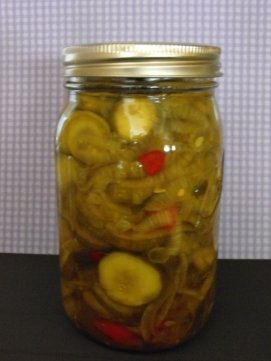 Home Canning Pickles - Bread and Butter Pickles
This is a canning tradition that goes way back. No sandwitch would be complete without the addition of a tasty bread and butter pickle. This is the recipe that our Grandmothers used to create wonderful pickles!
This recipe makes about 5 pint jars.
Ingredients
- 10 cups of sliced and trimmed pickling cucumbers
- 4 medium onions - thinly sliced
- 1/2 cup pickling or canning salt
- 3 cups of white viniegar
- 2 cups of granulated sugar
- 2 tbsp of mustard seed
- 1 tsp of celery seeds
- 1 tsp of ground turmeric
Directions
1. Combine the cucumbers, onions and salt in a glass or stainless steel bowl. Mix them well. Once mixed, cover with cold water and let stand at room temperature for about 2 hours.
2. While this mixture is setting, you can prepare the jars and lids needed for this canning session.
3. After the 2 hours is up, place mixture in colandar and rinse with cool water - drain thoroughly.
4. Combine the vinegar, sugar, mustard seeds, celery seeds and turmeric in a large stainless steel sauce pan.
5. Bring to a boil, stirring to disolve the sugar. Stir in vegetables and bring to boil.
6. Pack vegetables into hot glass jars. Make sure that you leave a little more than a 1/2 inch space from the top of the jar. Ladle hot pickling liquid into the jar to cover vegetables. Again, make sure that you leave a 1/2 inch space from the top of the jar.
7. Remove air bubbles and add more pickling liquid if needed.
8. Wipe the rim of the jar and add a lid. Screw the band down until it it finger tight.
9. Carefully place the jars in the canner. The jars must be completely covered with water. Bring to a boil and process for 10 minutes.
10. Remove canner lid and let cool for 5 minutes.
11. Carefully remove each jar and let cool.
12. Once cooled the jars can be stored.
---
---
---
Preserving the Good Things in Life!

---
Go Back to Home Canning Pickles Main Page
Go Back to Home Page