Salsa Canning Recipe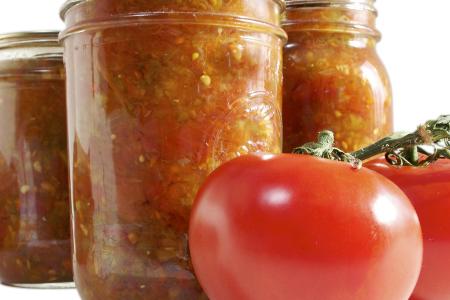 Salsa Canning...
This is a a nice and simple salsa canning recipe. It allows you to easily adjust your tast preference in regards to how spicy you want it. (mild to very hot). It's important that you don't alter the quantities of vegetables and vinegar since it is important for the proper acidity in high-acid food processing.


---
Ingredients - Salsa Canning Recipe
Makes eight to nine 8-ounce jars
1 1/2 cups chopped onions
1 tbsb chopped garlic
1 cup cider vinegar
10 cups coarsely chopped, seeded, cored plum tomatoes
1 cup chopped, seeded red and/or gree bell peppers
1 cup loosely packed chopped fresh cilantro or italian parsley
1 tbsp dried oregano
1 tbsp granulated sugar
1 tbsp hot pepper sauce
1 1/2 tsp ground cumin
1 1/2 tsp salt
---
Directions - Salsa Canning Recipe
1. Place the 9 (8 ounce) jars on a rack in a boiling water canner. Fill the jars and canner with cool water. Maker sure the water covers the top of the jars. Cover and bring water to a simmer (medium heat). Do Not Boil.
2. Prepare the lids and bands. Place lids in a small sauce pan and cover with water, then heat to a simmer (medium heat). Do Not Boil. Keep the lids ready until ready to use. The bands do not need to be heated.
3. In a large stainless steel saucepan, combine onions, garlic and vinegar.
4. Bring to a boil over high heat, stirring occasionally.
5. Reduce the heat and boil gently for 2 minutes.
6. Stir in tomatoes and peppers.
7. Bring to a boil and cook for 3 minutes.
8. Add the cilantro, oregano, sugar, hot pepper sauce, cumin and salt.
9. Bring to a full boil, stirring constantly. Reduce the heat and boil gently 3 to 5 minutes. You will want to cook it just until the peppers are tender (stirring occassionaly).
10. We are now ready to fill the jars, however you will want to do this one jar at a time.
11. Remove one jar from the canner and empty the hot water back into the canner.
12. Place jar on a towel covered counter. (Do not dry jar).
13. Place a canning funnel in it and ladle hot salsa into the hot jar. Leave about 1/4 inch headspace.
14. In this Salsa Canning Recipe you will want to remove air bubbles by sliding a non-metallic utensil down between the salsa and the inside of the jar. Add more salsa if required after bubbles have been removed.
15. Wipe the jar rim with a clean damp paper towel or cloth. You want to make sure that you have not food residue on the rim, otherwise it won't seal properly.
16. Using a magnetic utensil, lift a hot lid from the water and place it on the jar.
17. Put a screw band on the jar and finger tighten.
18. Return jar to canner rack and repeat this for each jar.
19. When all jars are filled and place back into the canner, you will want to make sure that the water is at least 1 inch above the tops of the jars.
20. Cover canner and bring the water to a full boil. You will want to process / boil for 15 minutes.
21. After 15 minutes turn off heat and remove the canner lid. Let set for 5 minutes and remove the jars, placing them on a towel. You will want this to be a draft-free place and undisturbed for 24 hours.
22. After 24 hours, check lids for seal by pressing down on the center of each lid with your finger. If there is no movement, then the jar has sealed properly. If there is movement you may want to reprocess the jar or refrigerate it for immediate use.
Salsa Canning Recipe... Simple!

Canning Equipment You Will Need - Salsa Canning Recipe

---
---
Preserving the Good Things in Life!